Between all the Great British Baking Show/(Bake-Off) we've been watching, and looking through all these delicious recipes, tips, and photos, we're pretty sure we could eat cookies for dinner and be okay with it. This time of year seems to bring baked-good exchanges from every direction, and while that speaks to us enough already, the best part is seeing all the creative ways to create and decorate these bite-sized gifts! And naturally, we've always got weddings on our minds, so we can't help but think how perfect cookies are as favors for your wedding or wedding shower!
No matter where they show up (and really, we hope they just keep showing up all year long!) we are happy to present to you our very first Cookie*-Lover's List!!  With TONS of gratitude to all of you that shared recipes and tips and photos, we hope you enjoy this very sweet cookie compilation!
And while you're here, be sure to follow along with each of these creative treat-makers to see what they're up to all year long!!
*cookies and one bonus doughnut recipe!
---
From the Pros:
It's no secret that Britney & Marlayna are big fans of the sweet team at Kupcakes & Co.!  If you're local, you may know them for their beautiful cupcakes and stunning wedding cakes, but they make delicious cookies too! Marlayna lives dangerously near to one of their shops, and it's been rumored that she can't help but grab a pack of chewy chocolate chip cookies whenever she's there to pick up cupcakes ;)

Peanut Butter Cookies: 
-Always add the classic "fork stamp" for a signature look
-Course SEA SALT is the best topping—just a sprinkle right when they come out of the oven enhances the peanut butter flavor more than you know! 
Chewy Chocolate Chip Cookies:
-If the recipe says to bake them for 11 mins, DON'T!! Baking cookies one minute under the recommended time turns those babies from crunchy to chewy instantly.
-Invest in good quality ingredients, it makes a world of a difference. We use Barry Callebaut chocolate chips which we believe is a huge game changer for our chocolate chip cookies. This amazing chocolate is now available at Whole Foods!!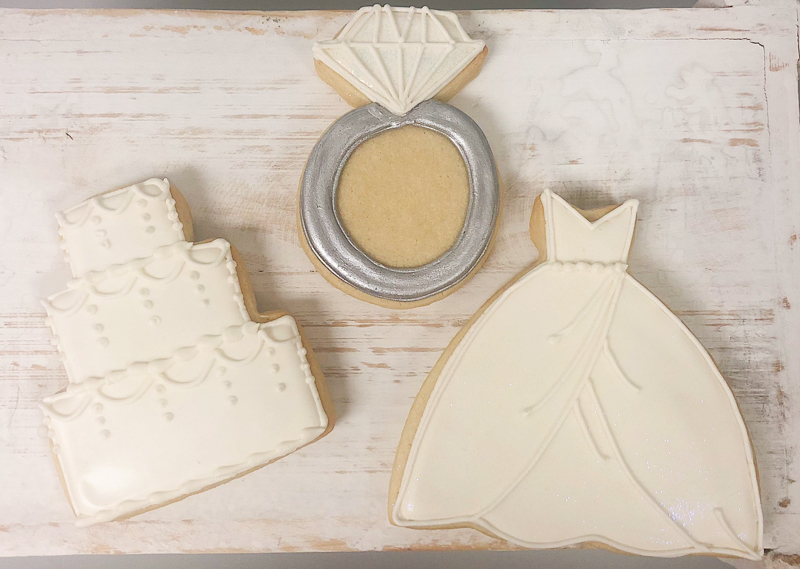 Sugar Cookies:
-Find a recipe that emphasizes the cookies being soft and chewy—we love a soft and smooth sugar cookie!
-Use "Royal Icing" to decorate with instead of store bought. Royal Icing is super easy to make and allows your designs to come out so much more crisp and clean. One of our favorites for winter is a simple snowflake: dye your royal icing pale blue and sprinkle sugar crystals on top before the icing dries to give the cookies a sparkle, just like a real snowflake! 
As it happens in the land of social media, we started "following" Bramble Baking Co. on Instagram at some point, and we are sure we have one of our industry friends to thank for it! When we reached out for baking tips from Allie, we discovered that she's worked closely with another amazing local creative, Kelly Laughlin! And you can bet that Britney and Marlayna were wishing we had known about Allie's treats back when we were making multiple attempts at a mirror-glaze galaxy cake for our Infinity Love styled shoot!! We are blown away with these stylish cookies!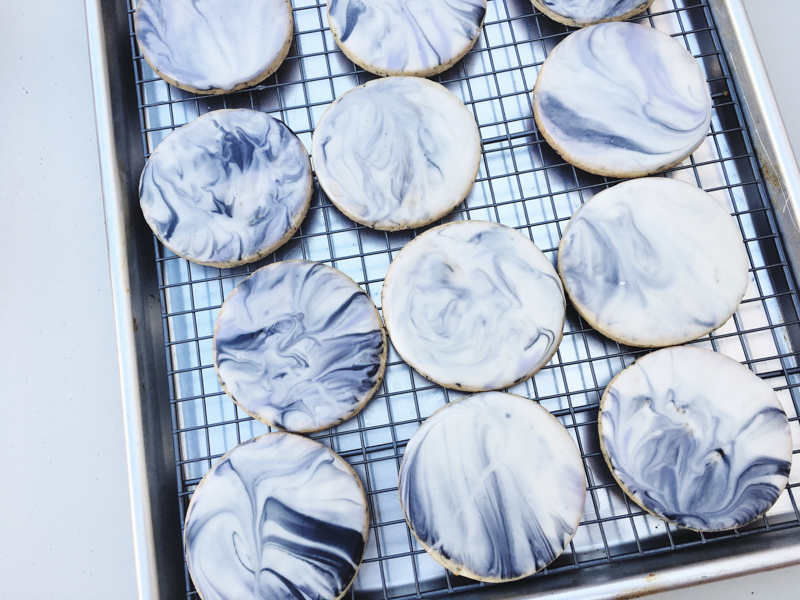 Marbled Cookies:
From Allie at Bramble Baking Co.: "I first brainstormed marbled cookies with my friend, Kelly Laughlin. founder of Odette Press. Kelly shares her practices of bookbinding and paper marbling through retreats and workshops across the country, including lots of workshops coming up designed to help you marble your own holiday stationary and books!
Kelly and I worked together to try marbling cookies based on the process shared on the blog Wood and Spoon, where Katie Clova has outlined a great set of directions. They're easy to follow, and best of all, the process doesn't require any painstaking detail work with royal icing! You can use any sugar cookie and royal icing recipe you like. I've tried it with both vegan and non-vegan versions and lots of different flavorings."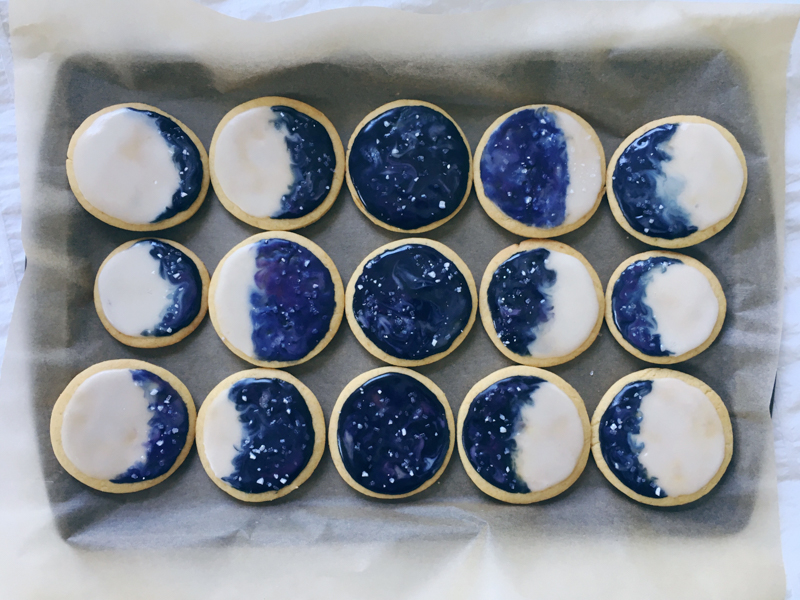 Moon Phase Cookies:
From Allie: "I also included an example I marbled with a slightly different approach to create moon phase cookies. Royal icing is a really adaptable medium when it comes to marbling on cookies! Instead of dipping the cookies, I worked with plain white icing, along with a darker purple and blue. I piped the general outline of the phases, and then used a toothpick to swirl the white, blue, and purple together. I sprinkled a bit of flake sea salt on top to create a few speckles (and because I believe in flaked sea salt on everything!)"
And, because Allie totally gets us with our DIY/handcrafted-loving hearts, she added this..
" I will have cookie tins at Prime Corner in Hampden later in December, and available for pre-order for December 23rd. Pickups on the 23rd for my whole holiday menu will also be at Prime Corner. Each cookie tin will include a few marbled orange cardamom sugar cookies, vanilla rose wreaths with flower sprinkles, ginger molasses cookies, assorted shortbread, homemade marshmallows, and sesame brittle.
Since I know folks are also embarking on their own baking adventures this time of year, large cookie boxes will also include a homemade sprinkle blend in a color palette inspired by lawn flamingos, in honor of the best (in my opinion) light-decked house on Baltimore's 34th Street: the "Flock Party" house with holiday flamingos. The best place to keep up to date and to find the complete menu is bramblebakingco.com or on my Instagram, @bramblebakes. "
Buttercream Bakery is one of those shops that we've had an eye on for YEARS! We are constantly floored by the incredible cakes they create (seriously, check out their instagram feed for sooo many beautiful cakes, including a few fun ones like a Mariah Carey Christmas cake!) Visiting Buttercream in DC has been on our to-do list for a while, and we found out they actually have DIY-cake kits now too! If that doesn't have our names all over it, what does?!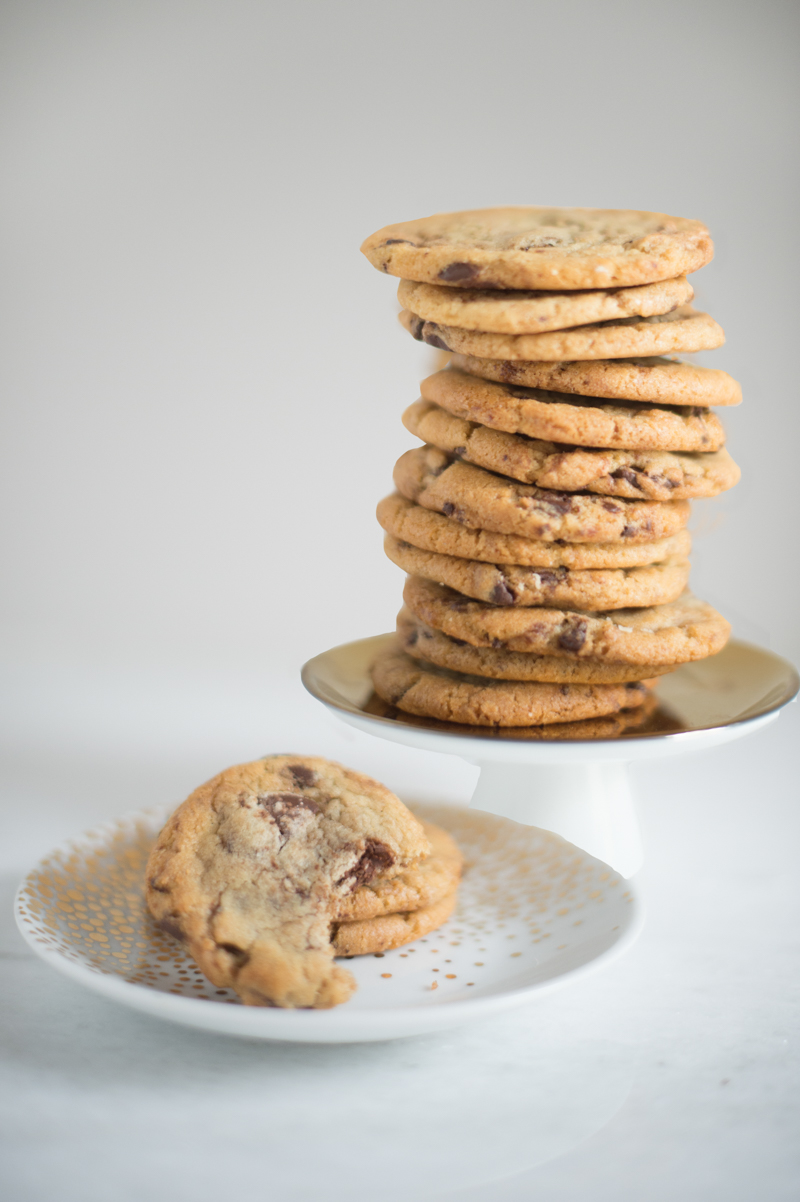 Recipe Used: Chocolate Chip Cookies
From BaM after reading their recipe: Wait... "Rotate the tray..." are we the only ones that have never done that?! Hooray for new baking tips!
Another shout out to social media and friends posting about their amazing and beautiful treats is what first got Nutmeg Cake Design on our radar. We are obsessed with their classic yet refined style in all their treats! And while we are sitting here drooling over all the cakes and cookies and beautiful treats they post, these cookie-seating-card-favors spoke to us big time! Whether you use them at a holiday dinner or for guests to find their seats at your wedding, these are sure to be a crowd pleaser!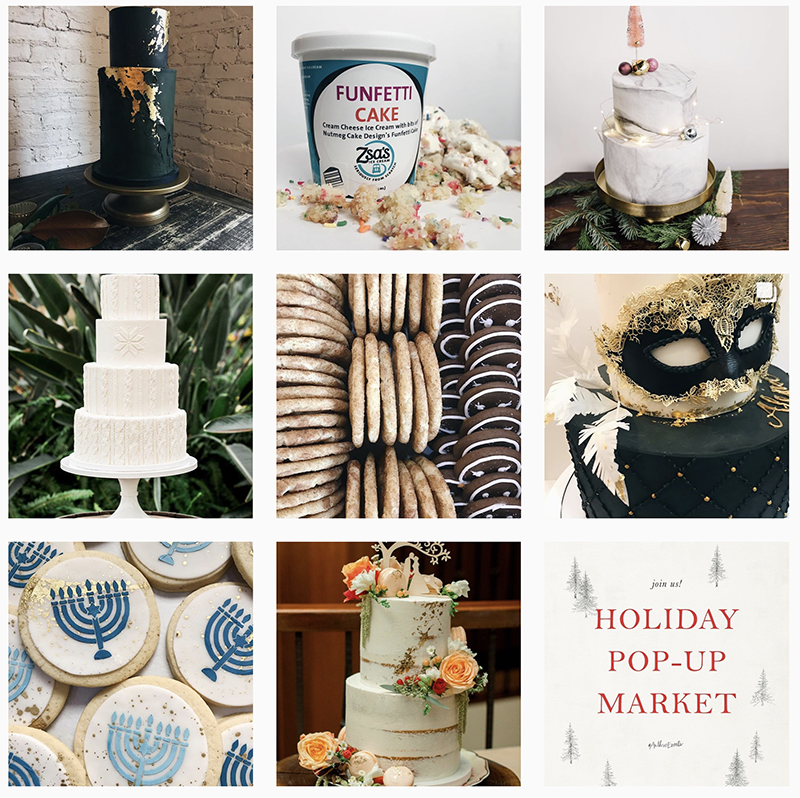 Yup, we're obsessed with their whole instagram feed if you can't tell!
Kym Joles of the Fox & Pantry
And rounding out this awesome list of pro-bakers, is Kym from the Fox & Pantry. We first saw her work while casually tuning in to the Food Network's Christmas Cookie Challenge. Pretty sure our jaws were dropped the whole episode as we watched her create the most stunning and unique cookie designs we've ever seen. Seriously, we are considering buying some of these cookies and just hanging them on our walls as art!! Definitely be sure to check out her Instagram Feed to see all of her beautiful works of cookie art!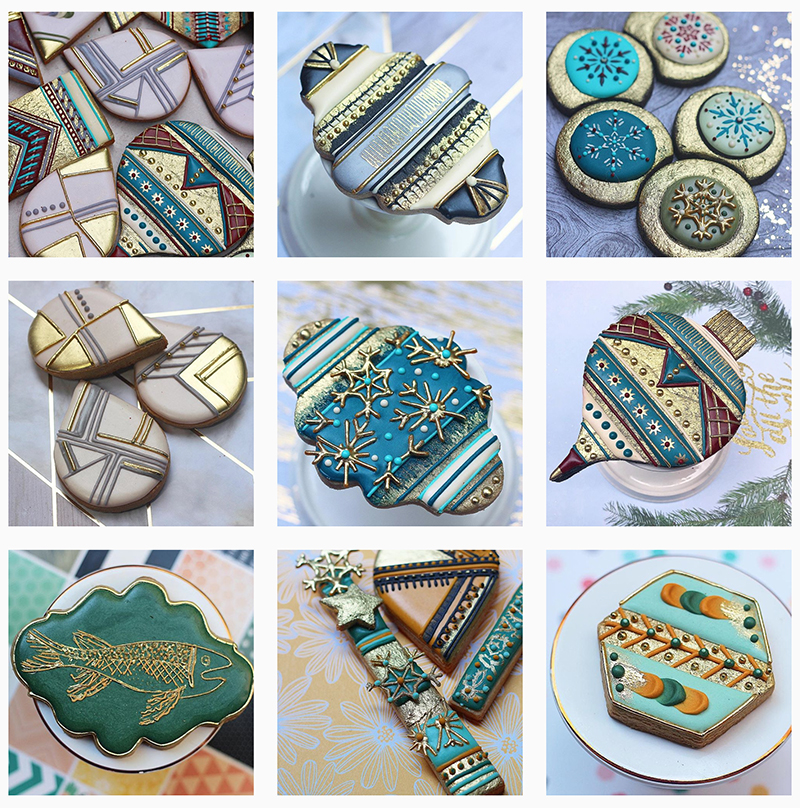 Click through above to see one of our favorites of Kym's Christmas Cookies!
---
From the Home Bakers:


Fun fact: Marlayna's mom has been a baker for as long as she can remember (yes, Marlayna had THE coolest birthday cakes each year growing up, thankyouverymuch!!) And while she may not have her own commercial kitchen (yet??), she's a professional "at-home" baker in our hearts! She shared a couple favorite recipes that get devoured each year, after she and her friend Pat meet up for the annual "Cookie Day." Yum!!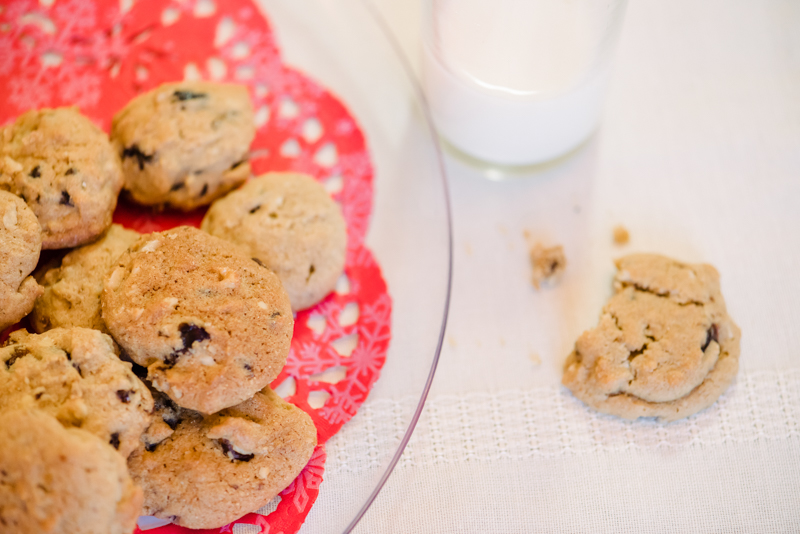 Recipe Used: Michigan Racks Cookies
PS. These have fruit in them so they're basically fine to eat for breakfast, right? Right.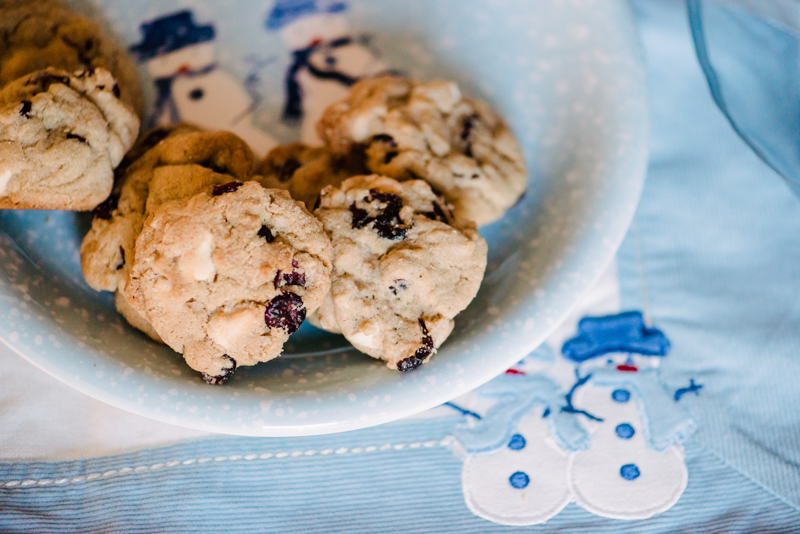 Recipe Used: White Chocolate and Cranberry Cookies
Candace of From Pixels, to Quill
You might recognize Candace's name and business, From Pixels, to Quill, since she's been a support of BaM since day one in so many ways (heyyyy so much styled shoot love, and our logo!). So while she is a seriously talented designer and calligrapher, she is ALSO a seriously talented baker and foodie!! She's always coming up with some kind of delicious recipe (and somehow always seems to remember exactly how she made something when you ask her the next day <3). More tips from Candace are coming soon on how to make these beauties, and for now we'll all be drooling over these stunning Eggnog Macarons!!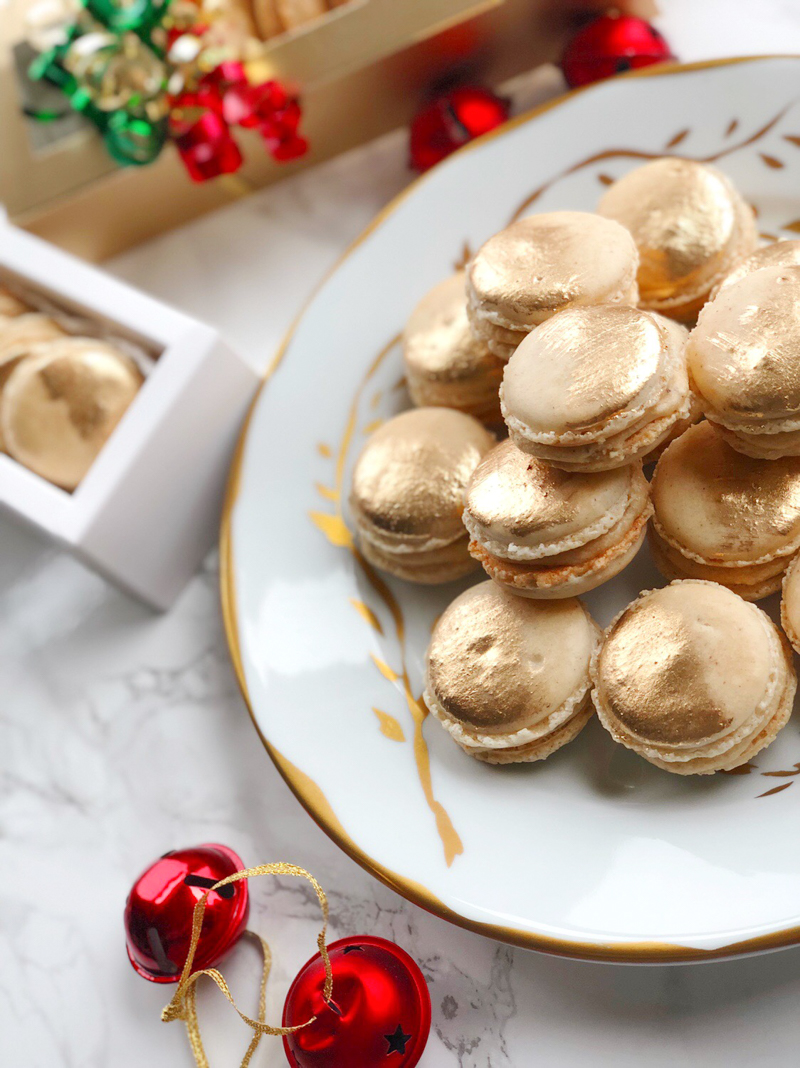 Recipe used (as a base): Eggnong Macarons by McCormick
Adapted Recipe by Candace: Gold-painted Eggnog Macarons
From the baker: "I followed the [above McCormick]  recipe exactly for the shells, with an additional note that I allowed the shells to set for about 30 minutes before baking. This allowed them to become just slightly tacky to the touch, and helped to create the telltale "foot" of the macarons once the shells were baked. Oven temps/times can vary, but I baked mine at 350° for a total of about 12 minutes (after the first 5 or 6 minutes I rotated the tray in the oven for even cooking and continued baking). You basically just want to keep an eye out and make sure that they don't get too browned.
As I'm sure many home cooks and bakers will tell you, I love trying new recipes and including some additions and tweaks to really make it my own. And that's what I did here with the Eggnog Buttercream Filling. McCormick's recipe just calls for the addition of brandy along with the spices to get an eggnog flavor, but I chose to also incorporate St. Elizabeth Allspice Dram (this has all the wonderful eggnog spices included in it!), and Gosling's Black Seal Bermuda Black Rum (this kind is rich with flavors of vanilla, butterscotch, and caramel). What can I say? I love a boozy, spice filled 'nog! I also added a bit of eggnog itself, and my preferred, readily available variety is Hood's Golden Eggnog. If I can't get a classic, locally made, glass jug filled with eggnog, Hood is my go-to.
While I attempted to also follow McCormick's buttercream filling recipe, this sorta failed for me. With only using 1 cup of confectioners' sugar as their recipe suggests, my eggnog buttercream did not come together (perhaps it was all the booze I added, but really, I think it definitely needed more sugar overall). I added more confectioners' sugar until it came to a creamy, thinner frosting consistency, so I think I used about 2 1/2 cups total of the confectioners' sugar (other recipes call for up to 4 cups, so taste along the way and see how sweet you like it!).
Assembly process for me was the same as McCormick recommends. But I added some additional decoration with gold brushstrokes across half of the shell. I ordered some Edible Gold Luster Dust  online, mixed about 1/4 tsp with some almond extract, and used any clean paintbrush I had on hand to lightly brush it on. Super easy, and it dries on pretty quickly!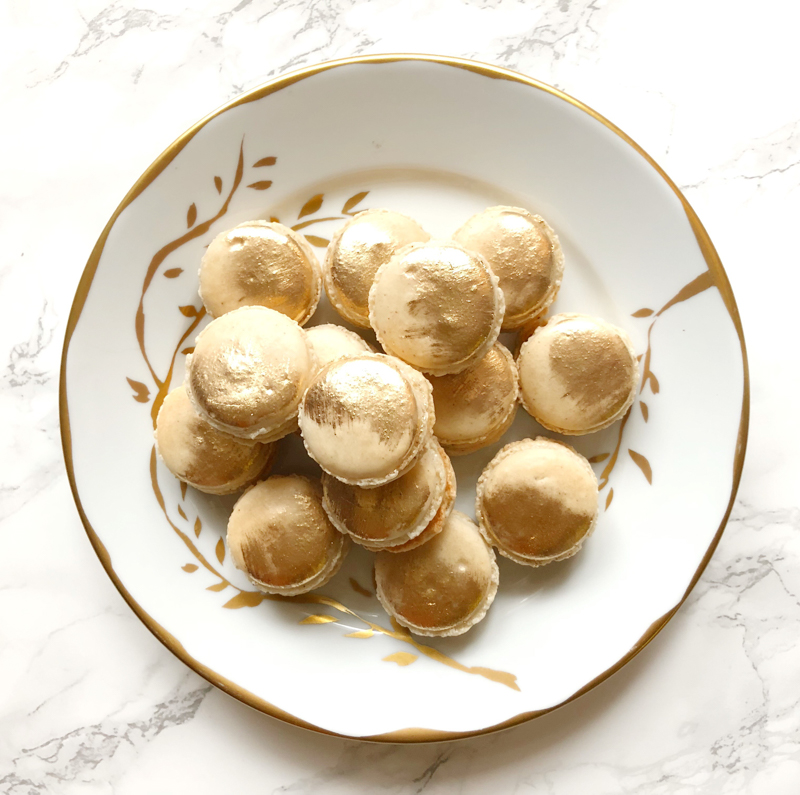 You might not know this, but Britney and Marlayna are also wedding photographers! Last year, Britney had the honor and the fun of capturing Arianna and Tyler's wedding! We are super grateful for Arianna's submission to our cookie list with this family recipe (and we loved the handwritten recipe card so much, we had to include it! You can also find a typed up version at the link below too!)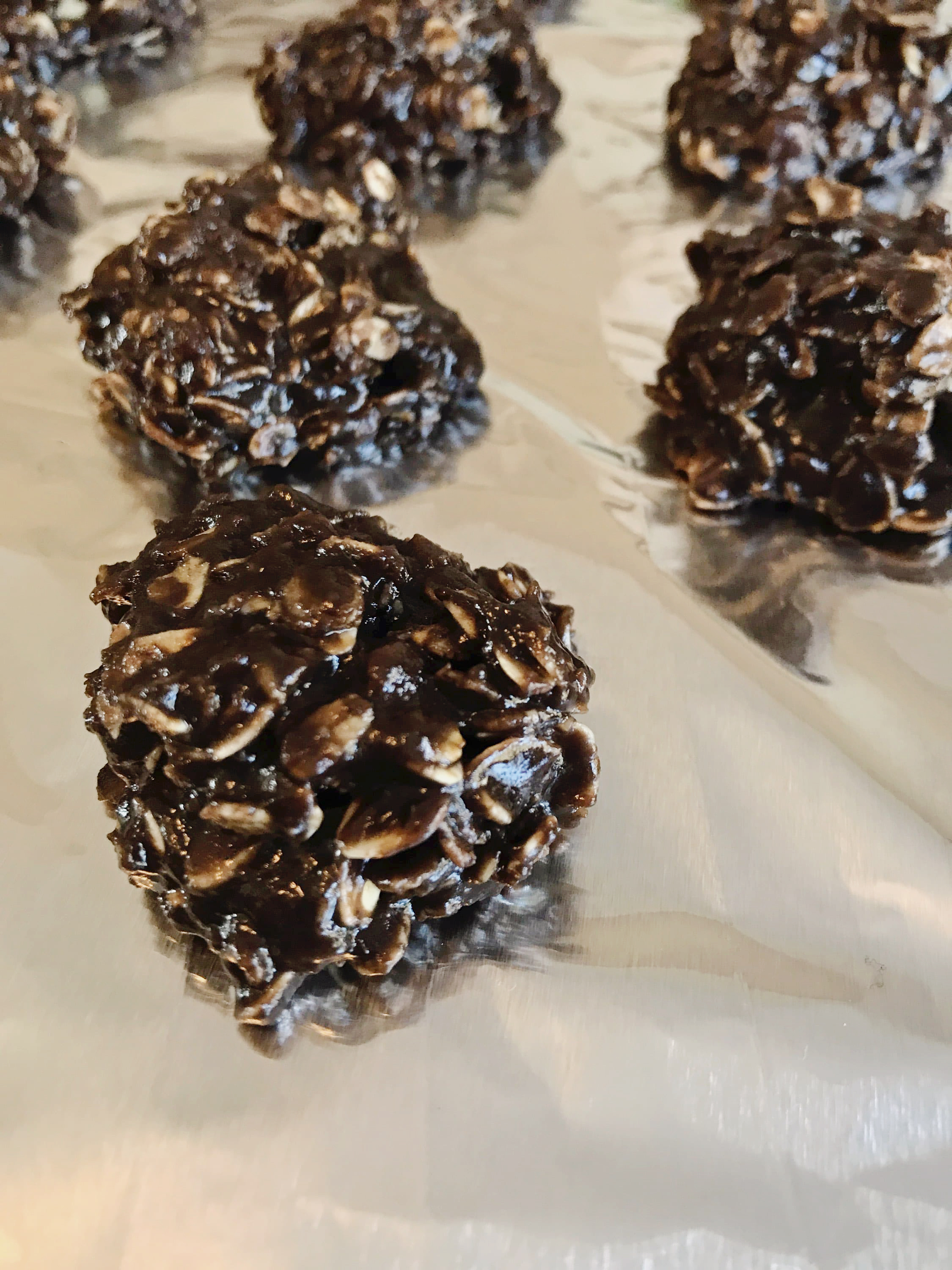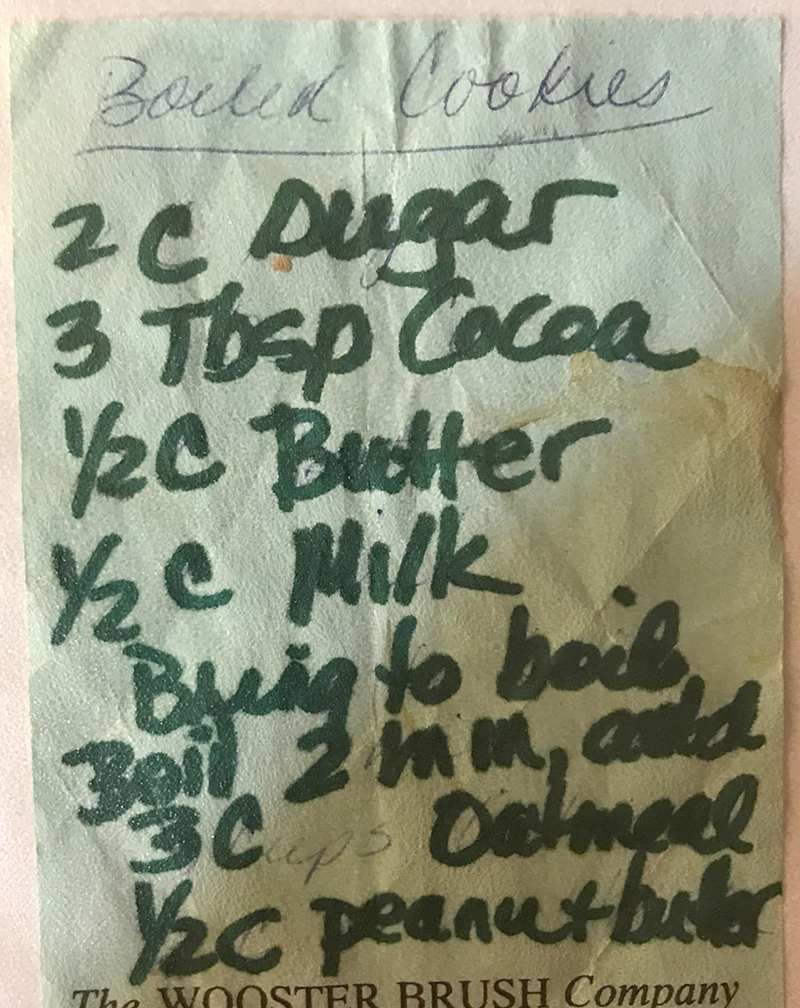 Recipe used: Boiled Cookies
Griffy Tanenbaum
One thing you should know about our friend Griffy? She loves COLOR! That means rainbows and beautiful designs whenever possible (no wonder she became a graphic designer right?). We love this rainbow twist to her Christmas Cookie Recipe below! It was such a hit, she's already made it twice this season!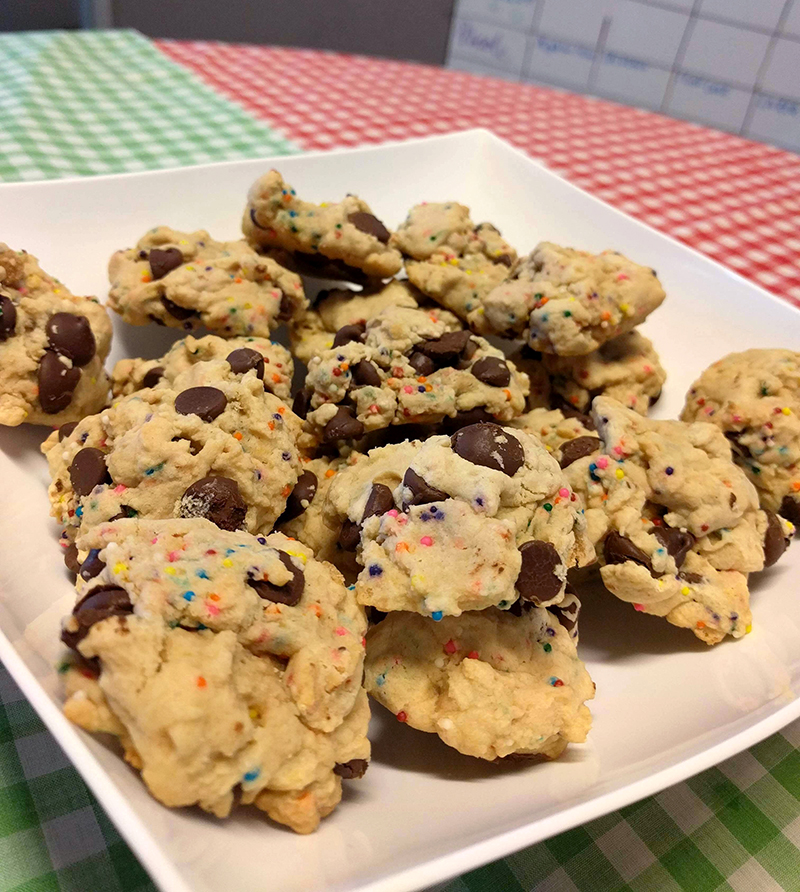 Recipe Used: Chocolate Chip Christmas Cookies
From the baker: I just made this cookie recipe and everyone (including me) was OBSESSED with them!!!
We opted to replace the white chocolate chips with dark chocolate chips and we were extremely pleased with the result.
When Harris Teeter was out of Christmas Sprinkles, Rainbow were happily substituted!
While these bite-sized beauties might not technically fall into the cookie category, how could we resist sharing these delicious sounding traditional Chanukah donuts?! Dinah is a home baker who is always trying new and beloved recipes. We were so happy to hear she was baking these for Chanukah this weekend - perfect timing for our post! And so of course, now we want donuts too..!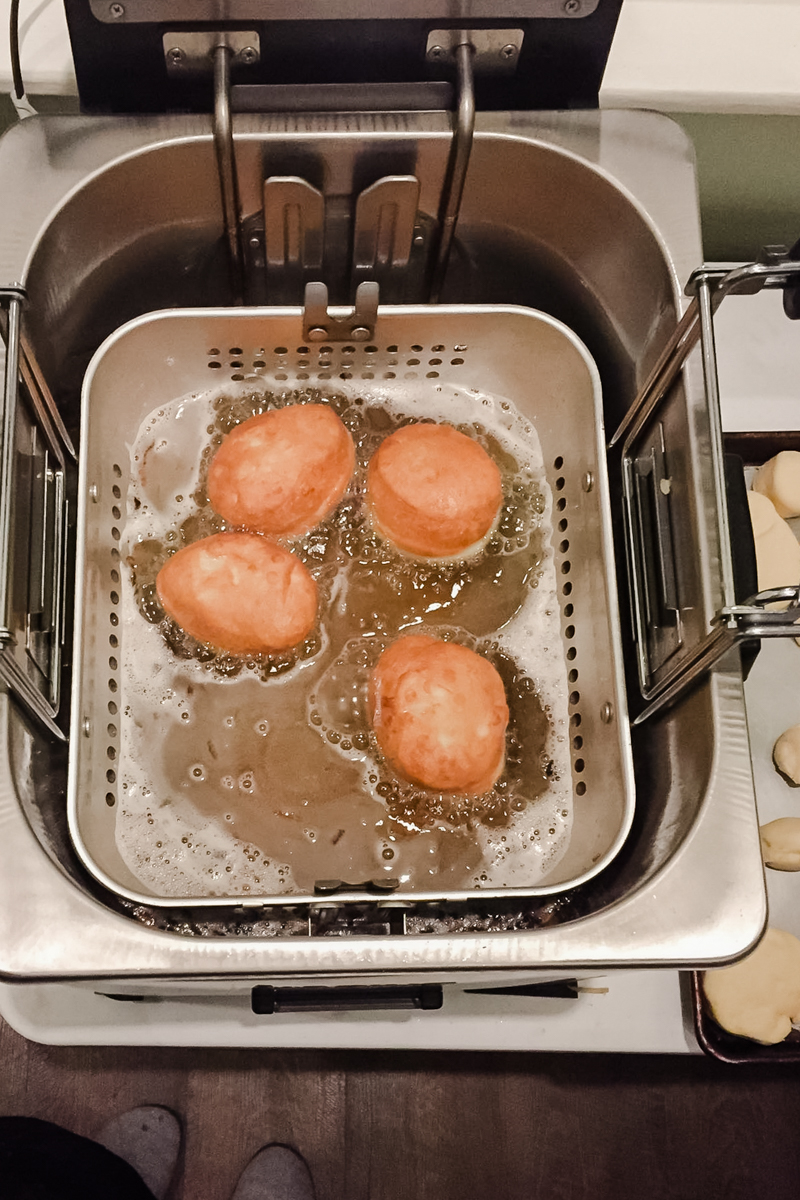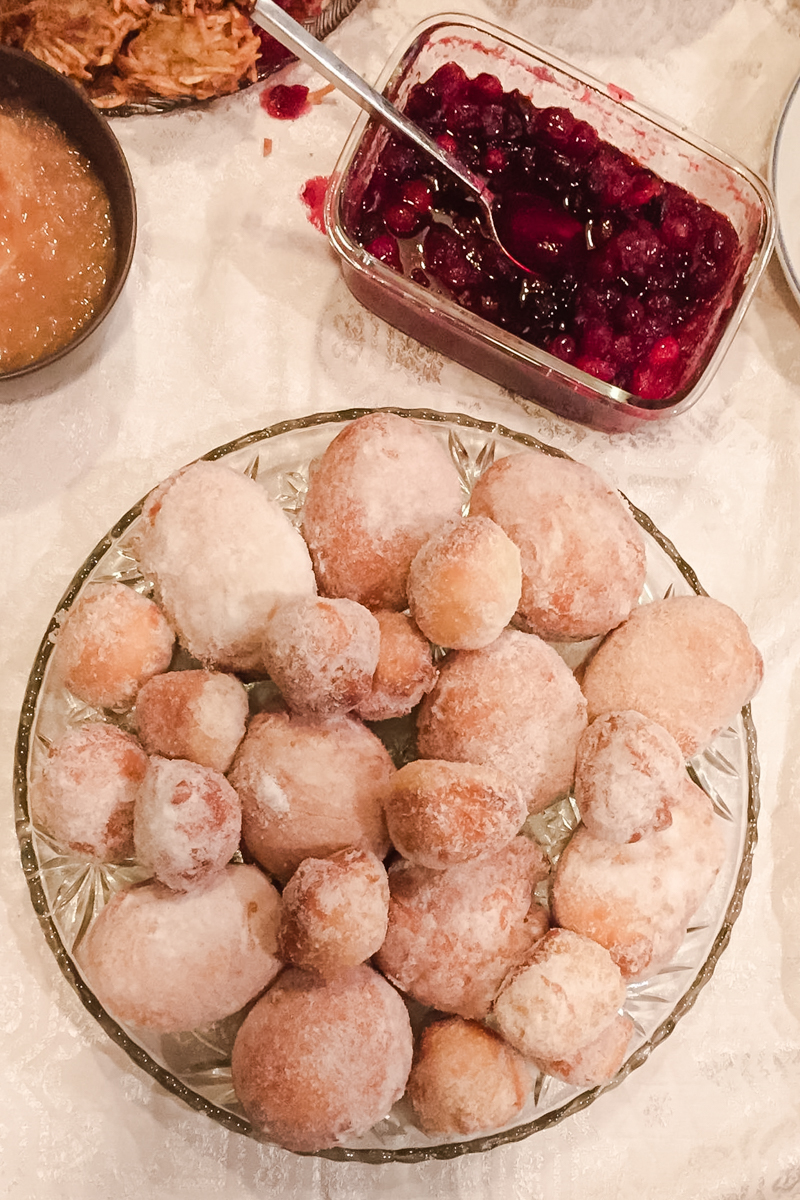 Recipe used: Zabar's Jelly Doughnuts
From the baker: "Making doughnuts can sound intimidating if you haven't tried it before, but it's a surprisingly straightforward process, and you have a lot of options to make the recipe work for you. You can prep the dough the night before, or the same day. You can make them large or tiny (I vote tiny, as they still tend to puff quite a bit). You can fill them with jam or just roll them around in a bowl of sugar and call it a day. A fresh doughnut is a special thing, and there is no one right way to make it."
Fun fact: Ashley is not only a talented baker, but she's a fantastic model too!! Ashley was one of our awesome Beerchelorette: Destination Baltimore models! She's also insanely talented at creating beautiful cakes and of course.. COOKIES!! And girl, you had us at gold leaf. We are obsessed with these beautiful and classy gold cookies she shared with us!!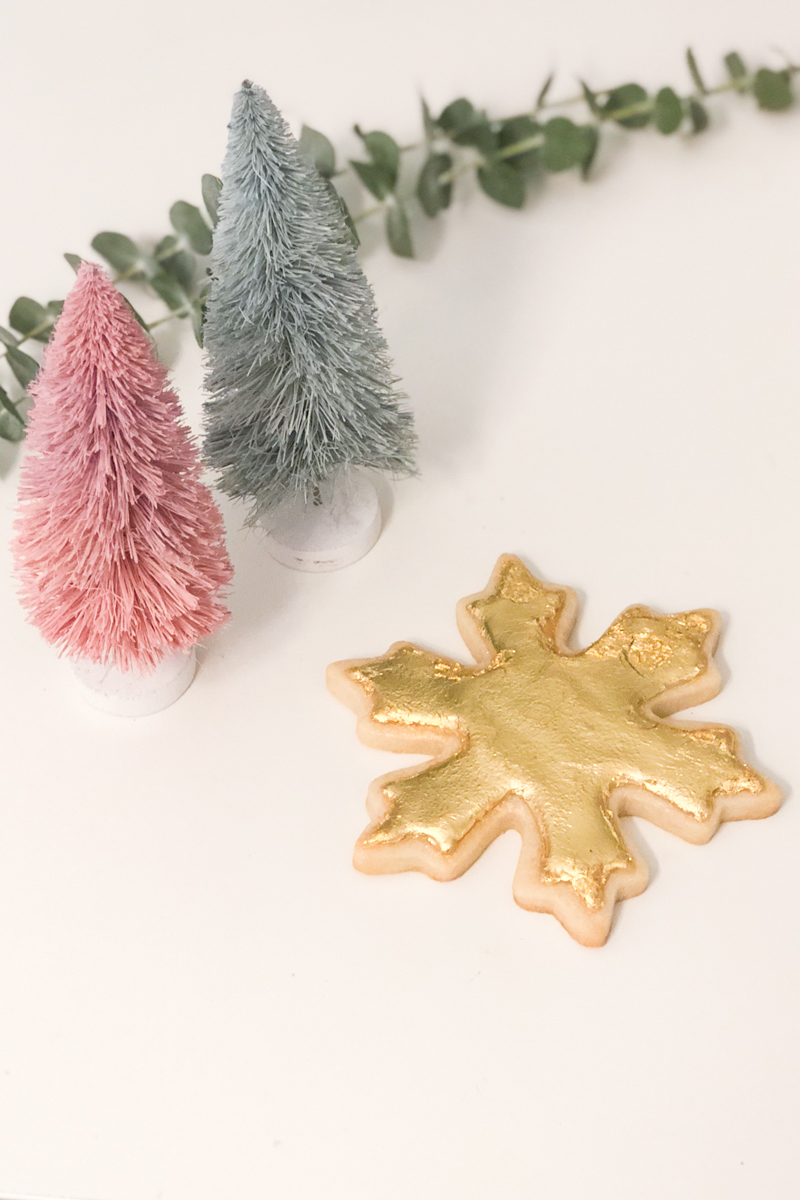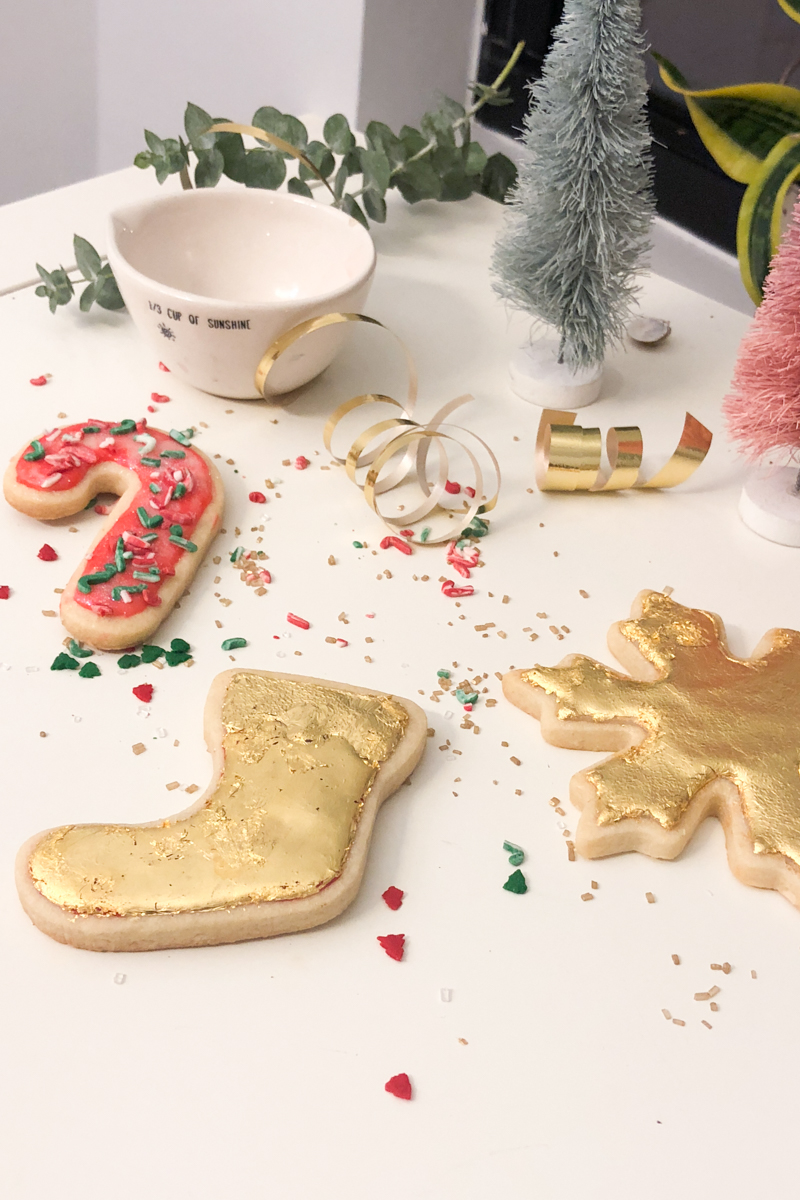 From the baker: "Edible gold leaf is fabulous on, well basically everything. It can also be unforgiving--hold your breath! This stuff is super delicate it will easily crumble into itself. After icing the cookies, I let them set and complete dry for 24 hours. I brush the top of the iced cookie with vodka (water works too!) and then place the snowflake directly onto the gold leaf. Press lightly and turn over to cut away the negative space. Have an exact-o knife (fresh blade!) to gently remove excess, try not to pull.  When working with a fondant covered cake, a hand steamer is your best friend."
Check out the materials she used:  Edible Gold Leaf on Amazon
---
Alright bakers, start your ovens and your deep-fryers. We're ready to start sharing and eating all of this deliciousness!!