You'll quickly see why, but we definitely gasped with happiness when we saw this spotlight come through our emails!! These pieces by She Paints by Stars are the most stunning addition to your home, especially if during the quarantine you'd added lots of new plant babies to your living space! We're so thrilled to share more about this business and owner Jacalynn with you today! Don't forget to keep supporting small businesses all year round, and check out her pages to find ways to shop!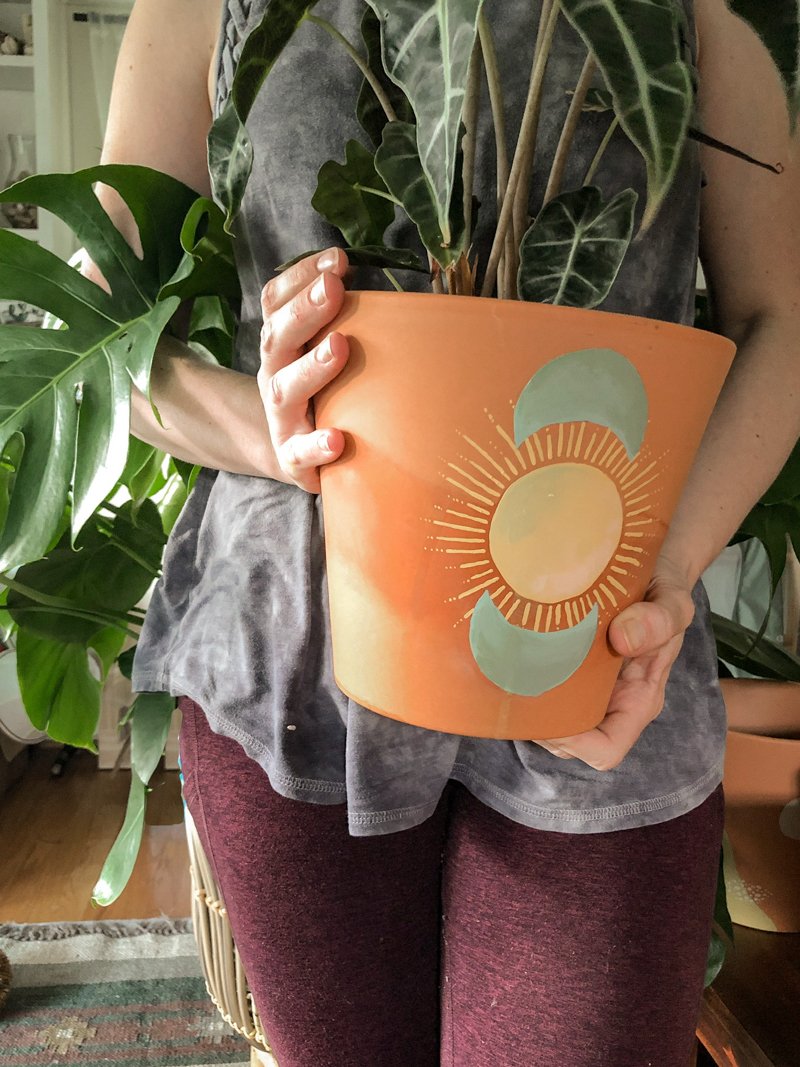 Let's get down to business!

Tell us about your business and how you got started! She Paints by Stars is located in the Baltimore/Towson area of Maryland. This little side business (opened just six months ago!) has been the best thing to come out of quarantine! 
What kind of pieces do you make? Hand painted terracotta pots, boho fringe plant hangers, copper plant trellises and other assorted boho planty things. Painting pots has been such a great creative outlet and way to connect with people through this weird year. 
I hand paint each pot so each is a unique work of art. Combine with a fringe hanger or a copper trellis to give your favorite quarantine plant the perfect upgrade!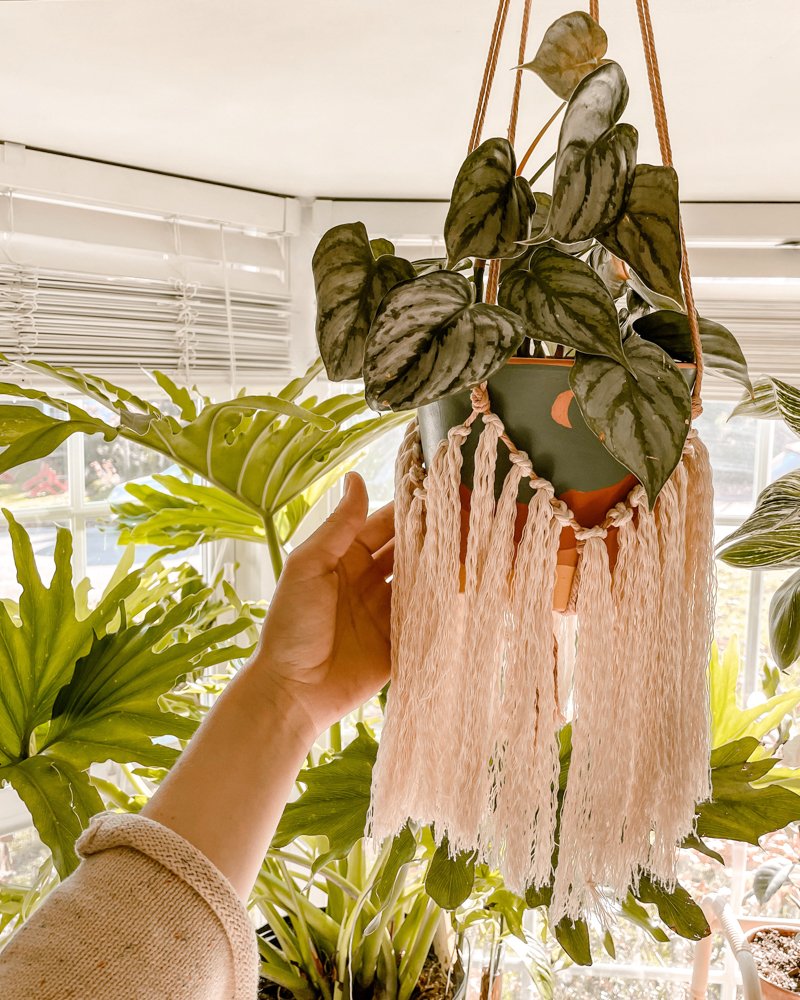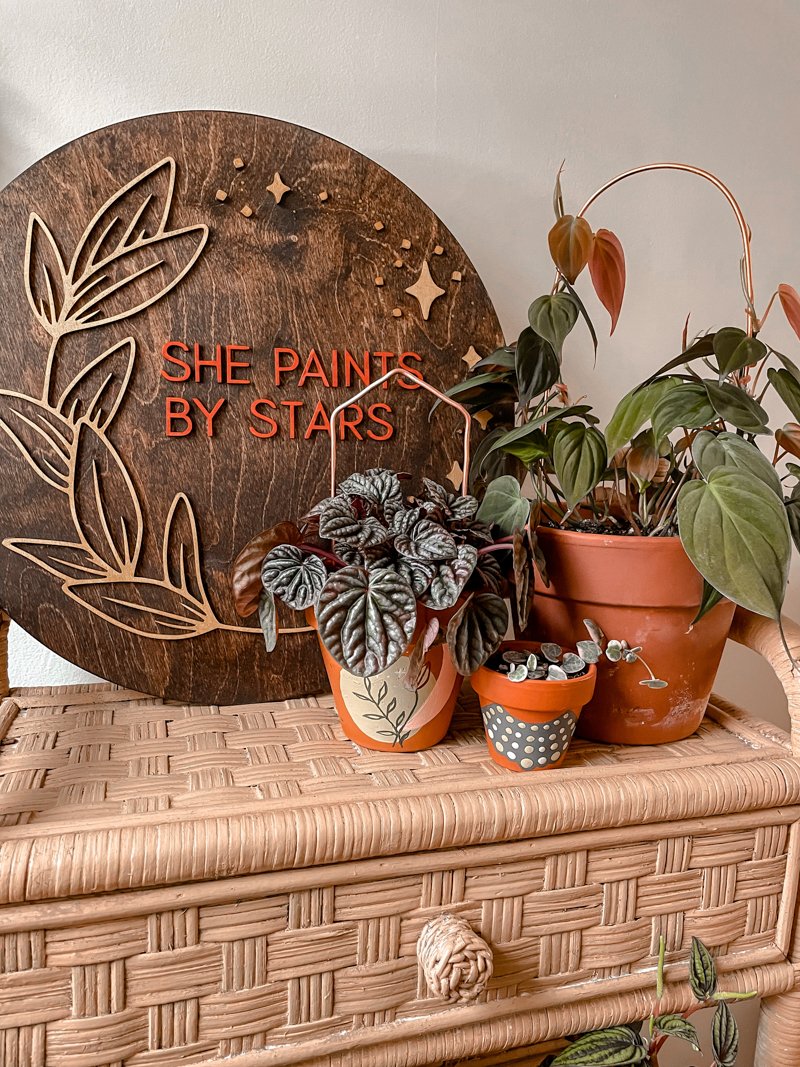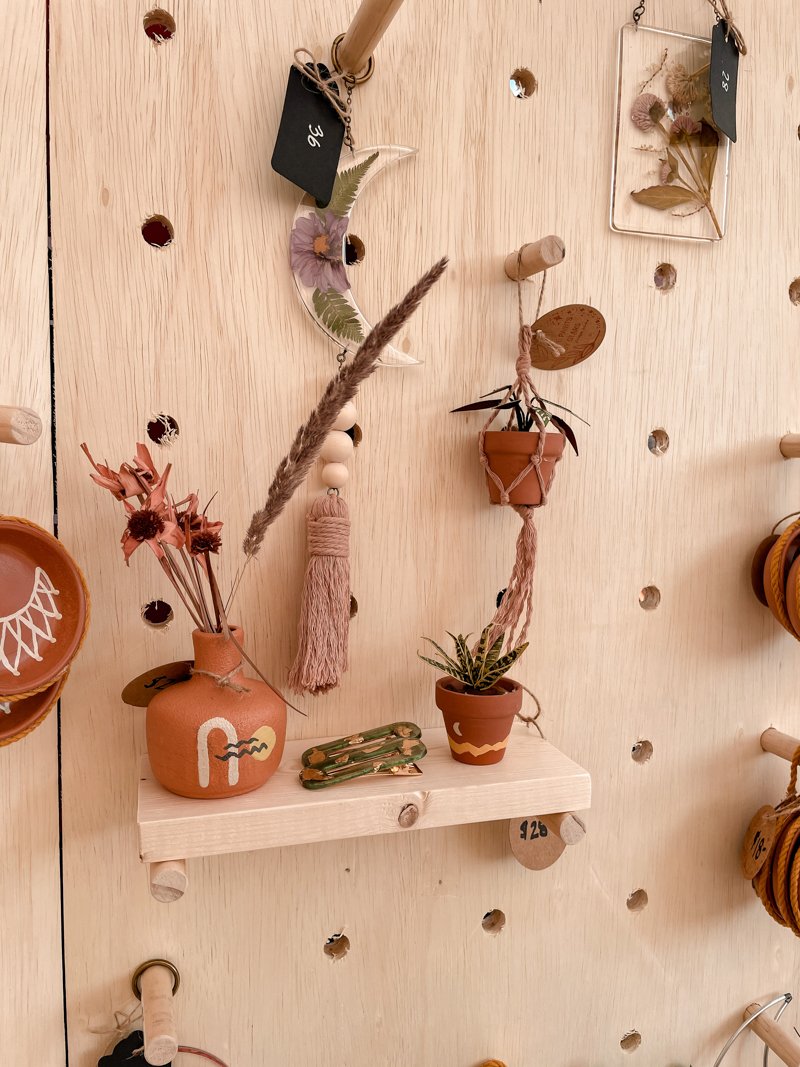 Tell us a little about you!
Outside of creating, what is something you love to do? I love plants! Like many I have acquired quite the quarantine jungle, which is slowly taking over my husband's office 😬 I have really enjoyed with connecting with others through local Plant groups! (BaM note // we're trying our best at this too! Plants are such a beautiful and happy addition to the home!!)
What first inspired you to go into business with yourself? I did an online pop up that I thought would be a one time thing because I had been painting so much. And it was a huge success. It sold out in minutes and I was blown away by the support! 
What do you love most about your business so far? Getting to know different people in the small shop community! It's been such a wonderful way to connect during the pandemic. 
Speed date round: What's your favorite color, food, and animal?
Color: I love celestial designs and earthy tones. 
Food: Donuts! I hide them from my family and eat the whole box. 
Animal: 🦩 so Baltimore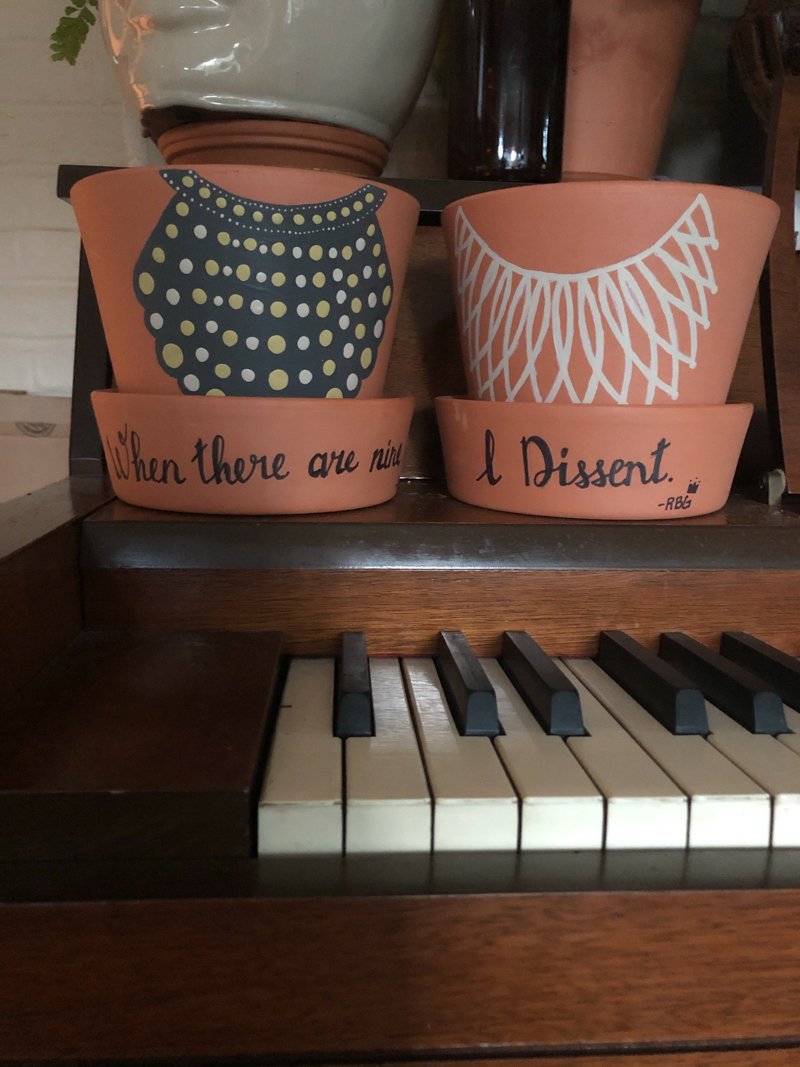 What's next for you and your business? Any goals to put into the universe? I had the privilege to do a few local markets with the incredibly talented Wren & Olivia. Our styles really jive together and we are talking possible collabs for next year 😉 (BaM Note // We LOVE this idea!! What a perfect pairing!!) And I would love some virtual pop up opportunities!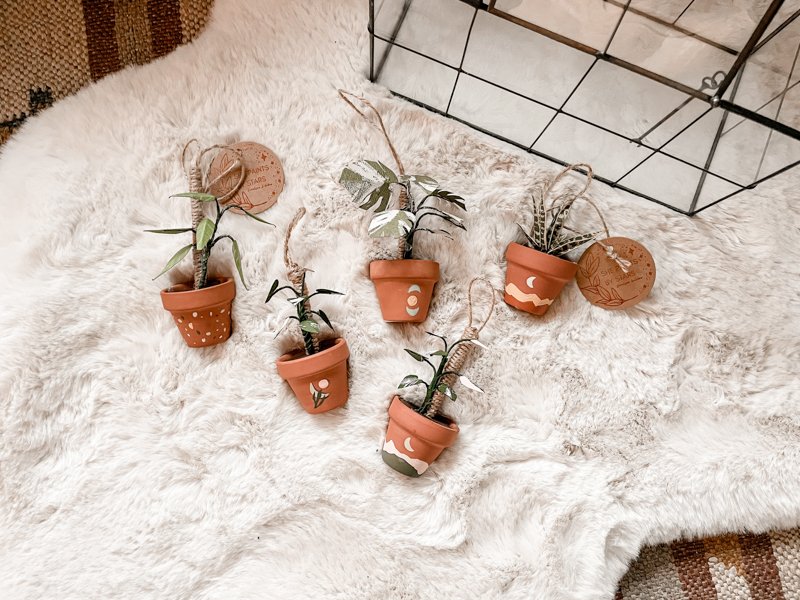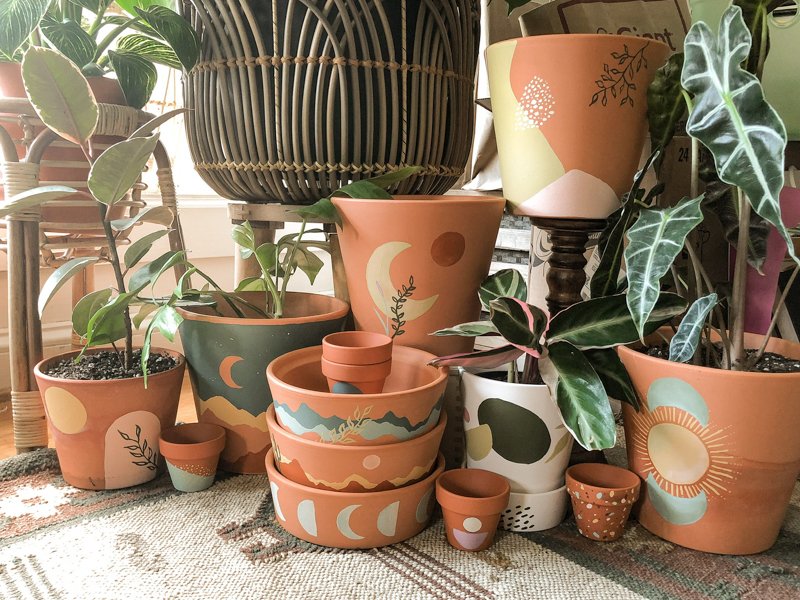 How can people follow you?
Instagram: @shepaintsbystars

Facebook: She Paints By Stars Group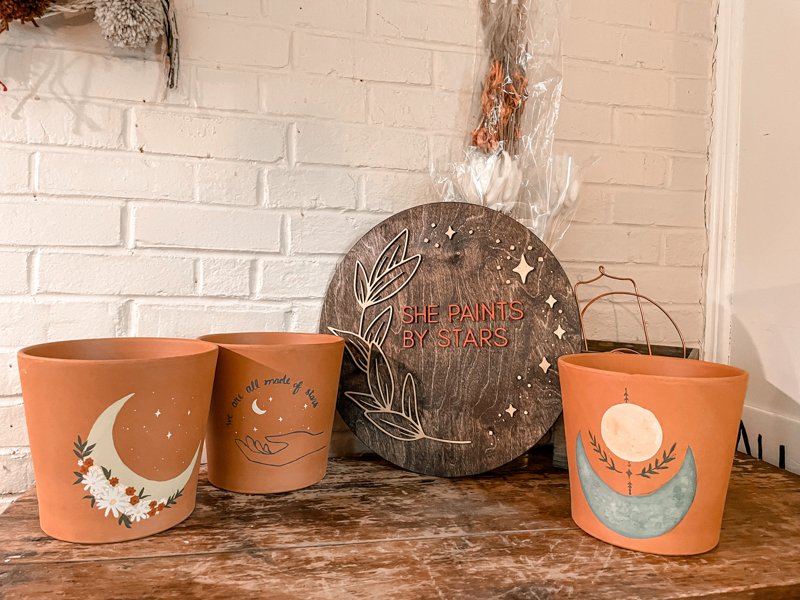 Interested in spotlighting your own creative project or business? Fill out our online form!